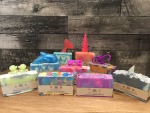 About
About 5 years ago I took an intro to soap making class, it seemed like something fun and different to do. It became a passion!
I quickly saw the benefits to my family's skin, from using the handmade soap, with natural ingredients.
Our skin stopped itching and flaking. We didn't need to apply harsh lotions anymore.
Of course we looked and felt better, we were no longer using the chemicals/preservatives that go into the "gentle" commercial soaps we were using, specifically parabens, phthalates and sulfates.
I started to expand to sugar scrubs, bath salts, body wash, lotion bars that would clean, exfoliate and naturally moisturize our skin. We were hooked and knew we would never go back to using commercial skin products again.