Newfoundland and Labrador 214 Duckworth Street, Unit 2C
We are a small company dedicated to crafting high-quality products with a distinct artistic flair!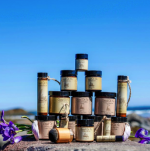 We are a mother/ daughter team making all natural skincare products that are simple, yet beautiful and effective. We like adding a unique and special touch to our products. As proud Newfoundlanders, we've connected our products to the beauty and simplicity of our Outport communities. For example, we have named our body butters after local communities that represent the essence of each scent. We also handpick empty mussel shells from our beaches, clean, sterilize, and attach them to each body scrub as a scoop. Most of our products are unisex, as we believe men should have equal access to quality skin care just as women do. All of our products, except our lip balms which contain beeswax, are vegan. We also use therapeutic grade essential oils and never use dyes or fragrances or preservatives. On top of that, our products are gluten free, made with mostly organic ingredients, leaping bunny approved and are 100% natural. 4 Dandy Lane
The Dictionary of Newfoundland English defines nish as: soft or tender, delicate; with the nuance that someone nish "cannot stand much cold or hard work"
Karen works as a stay-at-home "mompreneur", operating a bed & breakfast in picturesque, historic Trinity, Newfoundland.
Committed to products that are better for people, the planet, and the local economy, Karen sourced handmade Newfoundland soaps for her guests, then learned to make them. She selects quality ingredients which nourish, and draw moisture to, the skin, and purchases her ingredients from other small family-centered businesses. Your purchase enables us to make a living and care for our family in outport Newfoundland, so thank you.