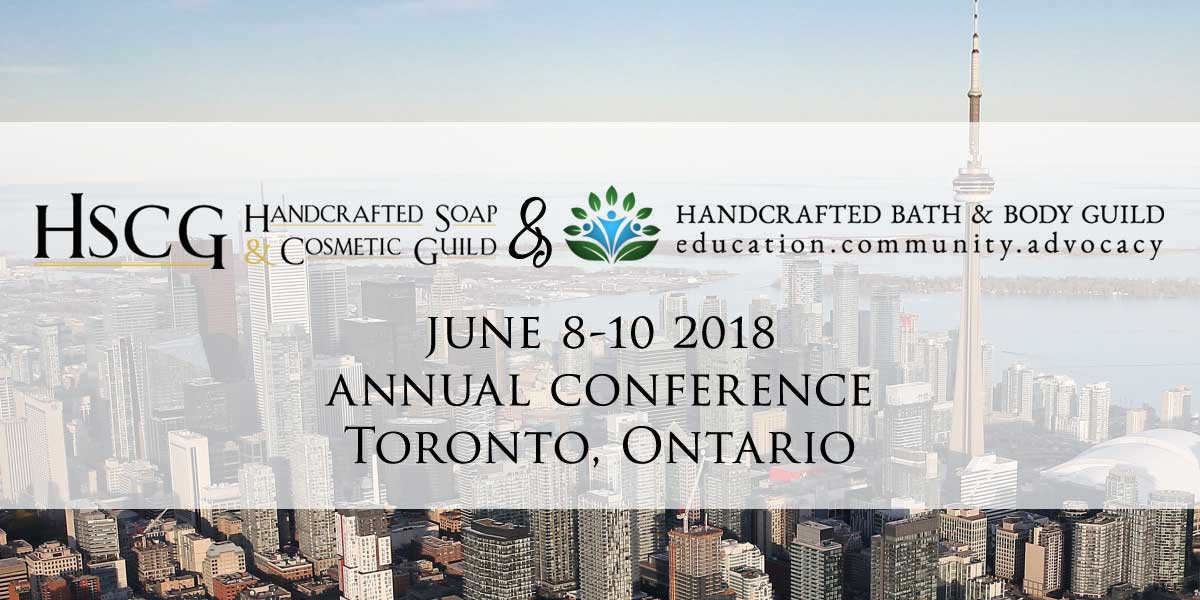 Overview
The 1st Annual Canadian Conference will be held at the Westin Airport Hotel in Toronto, Ontario, June 8-10, 2018.
The Handcrafted Bath & Body Guild has partnered with the Handcrafted Soap & Cosmetic Guild, to bring the best of the best soap conference to Canada.
Expect a completely packed schedule with classes and presentations during the day and special events in the evening. Breakfast and both morning and afternoon snacks every day are included. Lunch is included on two days, and dinner on the last night (the Awards Dinner).
Topics and Speakers
A variety of speakers, both from inside and outside the handcrafted soap and cosmetic industry, will covering a wide range of topics of interest including classes on different types of techniques used in making handcrafted soap and cosmetics, as well as classes on marketing, promotion, websites, labeling, and business issues.
Certification
For HSCG members wishing to participate in the Certification Program, sessions for examinations are scheduled at several times during the Annual Conference for your convenience.
Who can attend?
Conference attendance is open to members and non-members of the Handcrafted Bath & Body Guild, and the Handcrafted Soap & Cosmetic Guild. Members of both guilds receive a substantial discount on the registration fee, which includes classes, demonstrations and workshops door prizes, drawings and prize awards, and the Soapers' Showcase (optional). All attendees are invited to any special hosted evening events and parties. The only exception is the HBBG Annual Membership Meeting, which may only be attended by current members of the HBBG. Note: Lunch will be provided to non-HBBG-members in another location.
Registration
Registration for the 2018 conference is open. Due to space limitations, the number of attendees is limited to 150, and we expect to sell out (this often happens at the American HSCG Conferences). The earlier you register, the better price you can get. See below for more information on registration fees and expiration dates. 
What Comes With Your Registration?
Every registration includes:
Access to all classes, demonstrations and workshops topics and sessions.
Access to all special events.
All conference meals and breaks.
Detailed preparation information (online)
Conference Registration pack.
All HBBG/HSCG gifts and goodies
Industry goodie bag
All sponsored gifts and goodies
Access to the Exhibitor room
Entry to the Awards Dinner on June 10, 2018
Entry into at least one raffle
Lots of networking time with other soap and cosmetic makers and industry experts
Tons of fun and information!
Registration DOES NOT include:
Guestrooms at the Westin Airport. (However, attendees ARE entitled to a discounted room rate.)
Ground transportation to and from the hotel.
Any meals outside of those outlined in the conference schedule.
Registration Fees and Deadlines
All prices Canadian Dollars
Rate Class
Expires
Member
Non-Member
Ultimate
August 31, 2017
$375
$575
Premier
October 31, 2017
$425
$625
Prime
February 28, 2018 
$475
$675
Regular (Full) Rate
June 8, 2018 *
$525
$725

* Registration at the full rate will be available until the conference starts on June 8, 2018, UNLESS the conference reaches capacity and is sold out before then.
Guests
If you want to bring a guest with you who won't be attending the conference but wants to join you for meals, you may purchase a guest meal ticket. The cost is $250.00 and covers all meals, the Awards Dinner and any special parties. 
Associates
A member may bring up to 4 associates (family members, business partners, staff, etc.) to the conference under his/her member number and take advantage of the member rate for the associates.
Exhibitors
Exhibitor space is available for vendors and suppliers who offer products and/or services to the industry. Throughout the conference, plenty of time is set aside for attendees to visit the Exhibitor Hall. Purchase your Exhibitor Registration here. Program Book Ads can be purchased here. Sponsorship and Branded Items are available here.
Cancellation Policy
For fully paid registration fees, guest tickets or exhibitor tables canceled on or before November 30, 2017 the HBBG will issue a refund for 50% the conference registration fee paid. No refunds will be given for cancellations received after November 30, 2017. Cancellations must be made in writing via email to conference@hbbg.ca
This cancellation policy will remain the same regardless of whether or not the conference has open spots, sells out or has a waiting list.
Save
Save
Save