Pink Peppercorn Apothecary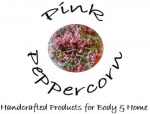 About:
Welcome to Pink Peppercorn! Handcrafted Products for Body & Home.
All body and home products are handcrafted in my home in Sherwood Park, Alberta with the highest level of attention to detail, quality and health and safety.
My current product offering is Body Butter, Body Lotion, Goat Milk Body Bar, Bath Salts, Room and Linen Spray, Cool Mist Diffuser Blends and Reed Diffusers in 10 fragrances developed in-house. Really my moods captured in a bottle! Please go to my website for full product details and visit my on Instagram or Facebook at pinkpeppercorn.ca. I look forward to hearing from you.