JustBirch Inc.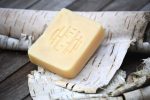 JustBirch is the first and the only Canadian producer of a unique line of 100% natural, high quality hair and body care products with the main active ingredient – Canadian birch tree water.
In the world of globalization, the majority of beauty care products are based on imported ingredients shipped from other parts of the world even though Canadian nature is full of potent plants. JustBirch gives you an opportunity to experience the goodness of local birch.
By using a high percentage of sustainably harvested Canadian birch tree water their products are rich in nutrients and visibly improve hair and skin condition.
All products are made in Ontario and are toxin free, cruelty free, environmentally friendly and fully biodegradable.
In the 2017 Clean Beauty Awards JustBirch Lemongrass Hair Revitalizer won second place in the Hair Treatment category.
By using JustBirch products you will enhance your beauty and shrink your impact on the natural environment.