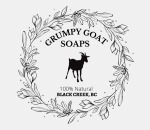 About
At Grumpy Goat Soaps we are a family run business, based out of Black Creek, BC (Vancouver Island).
Our main focus is to provide traditionally made, all natural, luxury and 100% hand-crafted goats milk soaps and natural soy candle products.
Each of our items are scented with 100% pure therapeutic grade essential oils and made with top quality oils, waxes, butter and farm fresh goat milk provided by our own herd of Toggenburg goats!