British Columbia Hi there! I'm Jessica, the woman behind Fantasy Soapworks. I create beautiful soap and bath products inspired by works of fantasy. There's nothing I love more than a hot bath with a good fantasy book!
Keep a bar of the eye-catching Dragon's Breath soap by the sink, forget about the day's stress with a Fae bath bomb, or have a custom gift set created for someone you love!
All products are created by myself in small batches to ensure quality. Custom orders, wholesale, and consignment inquiries welcome!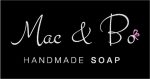 Here at Mac & Bo Soap we only want the best for your skin. We feel you can still have a fun, colourful, and unique soap without losing any of the properties needed for your skin to be clean and nourished properly. We scent our bars with high quality fragrance and essential oils. Goats milk and Vegan options also available. 
We are really excited to share Mac & Bo soap with you, it's something we are very passionate about and know you'll love as much as we do.
We want to work with you! Inquire about wholesale, custom, and soap for special events.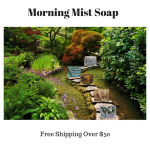 We specialize in handmade soap, liquid soap, beard oil, body butter bars, bath salts and more. We sell to retail and wholesale stores and our products are on Amazon.ca, Living on the ocean inspires us to create and name our handmade artisan soap products.